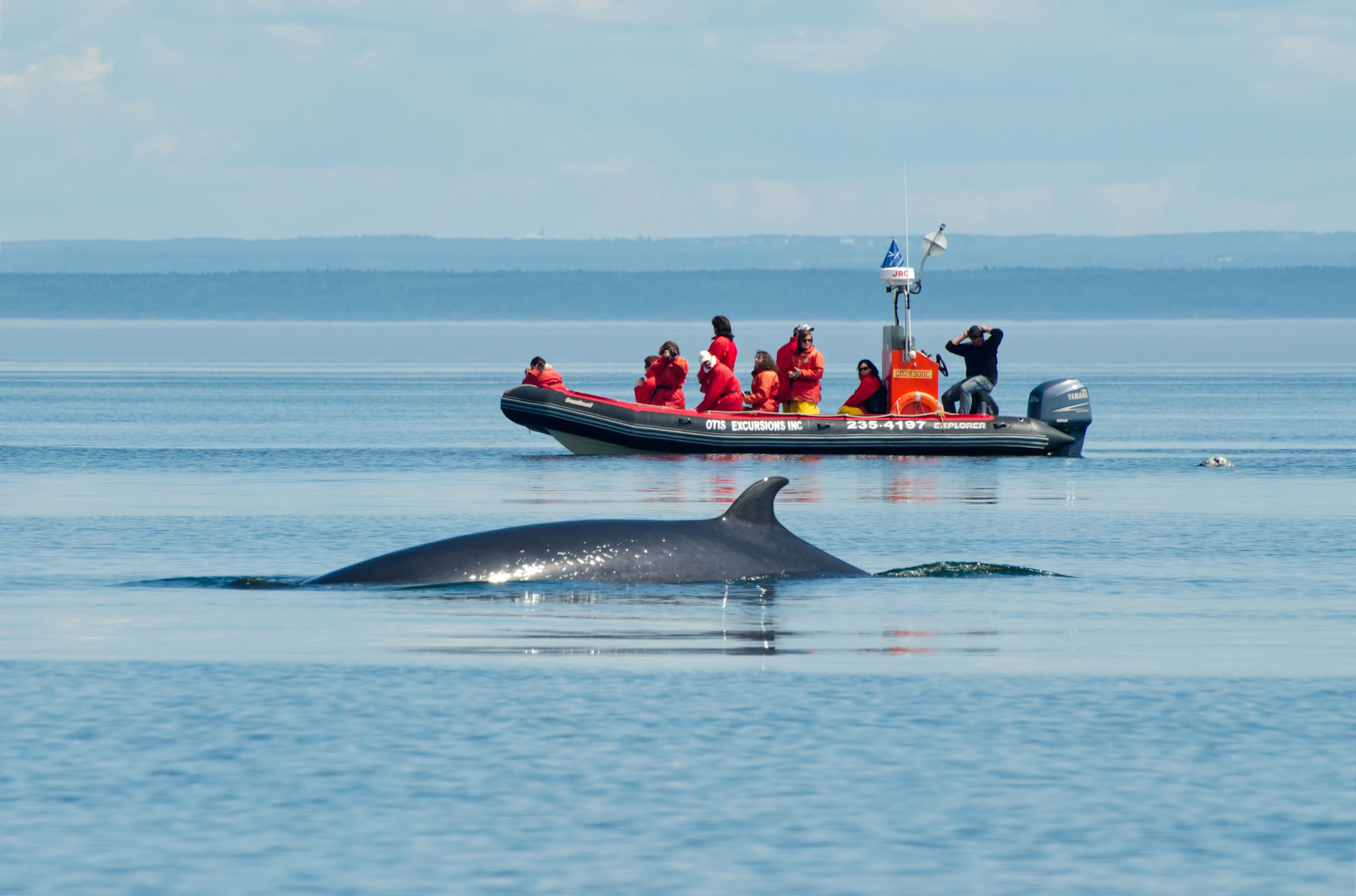 Along the North Shore, the majesty of the mighty St. Lawrence River and its estuary confront the visitor at every turn. Among its many treasures are 13 species of whale, which can easily be seen from shore at various points along Route 138 or from on board one of the many whale-watching cruises. Travelling along the Whale Route, you are sure to fall in love with its many charms. The Manicouagan Regional County Municipality's distinctive qualities were recognized by UNESCO's designation as a World Biosphere Reserve. Covering 54,800 km2 and encompassing Baie-Comeau, the surrounding villages, and the entire backcountry, where the boreal forest gradually gives way to the taiga, it is one of the largest such Reserves in the world.
The North Shore has a number of bustling urban centres: Forestville, Baie-Comeau, Port-Cartier, Sept-Îles, Havre-Saint-Pierre and Fermont, to name some of the largest. These cities strike a balance between availability of services andproximity to nature, and their tourism product has something for every taste: museums, parks, churches, interpretation centres, industrial tours and festivals.
The Caniapiscau region, where the famous caribou herds live in the trackless taiga, is a favourite destination for seasoned hunters, anglers, canoeists, and snowmobilers.
In Minganie, you can experience the life you hear described in the songs of legendary Québécois singer-songwriter, Gilles Vigneault. The Bouleau River is the gateway to this region, where picturesque coves and villages are perched, like jewels in Mother Nature's crown. Year after year, the Mingan Archipelago National Park Reserve attracts curious visitors, come to admire the immense stone sculptures dispersed across the chain of around 40 islands.
Anticosti Island is a favourite destination for hunters because of the Virginia (or white-tailed) deer that live there. However, the island is also home to fossils, caves, canyons and waterfalls. This is where visitors can grasp the true meaning of the slogan "Nature, Beyond Measure." From Port-Menier, the main road that bisects the island leads to outfitting camps and the remarkable flora and fauna that help make this huge island such a magical place.
You're sure to fall in love with the Lower North Shore and its breathtaking panoramas. Because of its large size (over 400 km) and relatively small population (about 6,000 inhabitants), visitors to this sparsely populated region are bound to experience the wonderful sensation of feeling small in such a vast landscape.
For more information on the region :
Tourisme Côte-Nord - Manicouagan
10, avenue Roméo-Vézina
Baie-Comeau (Québec) G4Z 2W2
Tél. : 418 294-2876
Télécopie : 418 294-2345
Tourisme Côte-Nord - Duplessis
312, avenue Brochu
Sept-Îles (Québec) G4R 2W6
Tél. : 418 962-0808
Télécopie : 418 962-6518